Understand how tasks are done and their contents on the first time, check services in hospitals in order to ensure employment on the second time, and on the third time endeavor to increase capabilities so as to become an immediately effective worker.

Participate in medical volunteer internship, and understand feelings of patients. Since senior students from earlier years are also participating in the activities, you can join without worry.

Will acquire business manners required within a hospital, including reception training. Endeavor to increase capabilities by experiencing a wide range of workshops within the school.
Schools where classes are offered
Ikebukuro school / Tachikawa school / Machida school / Yokohama school / Chiba school / Omiya school / Utsunomiya school /
Takasaki school / Kofu school / Nagano school / Matsumoto school / Morioka school
University hospital professor secretary
Hospital director secretary
Hospital reception
Qualification acquisition target
Medical Billing Proficiency Test, 1st grade
Medical Secretarial Proficiency Test, 1st grade
Nissho Boki Kentei (Nissho bookkeeping proficiency test) 3rd grade
Secretarial Proficiency Test, 3rd grade
Complete Advanced Life-Saving Certification course
1st year

Medical billing
Medical related laws
Medical office work training
Knowledge on clinical medicine
Word training
Receptionist training
Publicly funded health care
Basic medical knowledge
Hospital administration theory
Medical insurance system
Sign language training
Verification studies
Medical secretary introduction
Hospital internship@@and others
2nd year

Medical volunteer training
First aid training
Receptionist training
Hospital internship
PC training iExcel, medical computers)
Practical medical billing
Telephone reception training
Business manner training
Bookkeeping (commercial bookkeeping)
Hospital research
Secretary introduction
Advanced medical billing
Graduation research production
Secretarial manner training
Medical knowledge utilization@@and others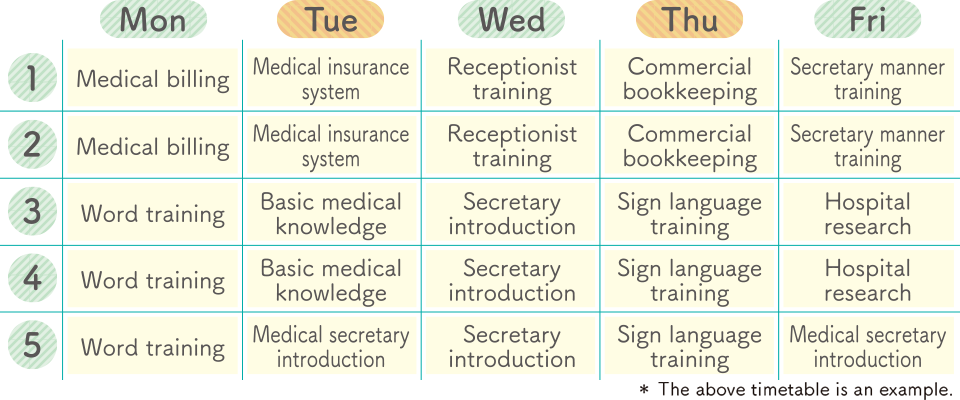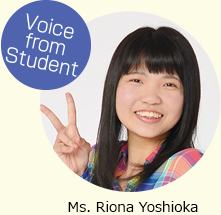 Since the school provides proper follow-ups, you can study without worry.
During an open campus visit, teachers and senior students were very kind, and I heard a wide range of hospital internships are available as well, which made me decide to join here. Studying about medical industry is new for everybody, so the starting point is the same for all. The lecturers teach us in an easy-to-understand manner, and they give us good-hearted advices on anything we go to them with, so it was quite reassuring.
Ms. Magano with cute smile! But she looks very cool when she is providing guidance on taking the exam!
Since she devotes her full energy for everything, she looks at each and every one of us and give us guidance properly; so she is enormously trusted by students! As she is always giving lectures with smile and enjoyment, we always end up drawn into the class without knowing.